---
Voice
---
Introduction
Integration of voice into data networks is now become a reality so this document has been written to give an overview of traditional circuit-switched voice operation and the elements that allow it to become part of a data network. Then we look at current packetised voice over data technologies, in particular Voice over IP (VoIP).
Traditional Switched Circuit Voice Operation
Switch Topology
In the USA 1974 saw an anti-trust suit brought against AT&T due to its very large userbase of telephone switches giving it an overwhelming monopoly within the voice provision market. The Modified Final Judgement in 1982 resulted in AT&T having its local call access given to seven Regional Holding Companies which were nick-named 'Baby Bells'. AT&T kept its manufacturing businesses and its long distance services.
Traditionally, telephones use analogue technology, however many organisations also use digital telephones that contain analogue to digital converters. Most PBXs are digital.
PBX Connections
PBXs are linked to COs via trunk links such as E1 links which are able to take 30 x 64kbps channels where each channel can take one call. You can get also get trunk links between PBXs which are called private trunk links. Other types of links that can act as trunks include T1(DS1), ISDN BRI, ISDN PRI and fractional T1/E1.
When linking a number of PBXs e.g. for a large organisation with a number of offices, the ideal would be to fully mesh the links.
The Private Branch Exchange (PBX)
The PBX or PABX ('A' for Automatic) contains many features which can include:
Lowest Cost Path Routing - having the preferred paths, based on cost, line quality, reliability and billing information.
Automatic Call Distribution (ACD) - finding available telephones in a pool, often called Hunt Groups.
Voice Mail
Call Forwarding - automatically forwarding of calls when a telephone is unavailable.
Calling Line Identification (CLI) - that maps the caller's number to a name in a database.
Calling Number Blocking - blocking of unwanted numbers.
Voice Conferencing - allowing a conversation to occur between more than two people.
The CO switch contains a Battery that provides power for both ringing and for the call itself. Local power to the basic analogue telephone is not required. The switch also contains the following components that enable the basic telephone to function:
Current Detector - this monitors whether the circuit is open (On Hook) where no current is flowing; or closed (Off Hook) where current is flowing.
Dial Tone Generator - this tone indicates that the switch has recognised a request by a user to make a call.
Digit Register - this recognises and deals with the dialled digits.
Ring Generator - this sends a rining signal to the called party.
Call Setup
Call Supervision
Call Disconnection
Memory
Logic
Central Office Exchange Service (Centrex)
Centrex is a way of off-loading the responsibility and cost of maintaining a PBX on to the Central Office which houses the Digital switch instead. Centrex is a service which provides reliability, resilience, support for all types of telephone equipment, support for DID, flexible upgrades, no risk of obsolete equipment and unlimited expansion.
Centrex can have high recurring costs, plus the response time for changes or additions may not be as speedy as if the organisation had its own PBX. In some countries, certain features that exist on a private PBX may not be permitted on a Centrex system.
Telephone Call Operation
Using Loop-Start signalling, traditional telephone systems operate more or less as follows:
The telephone starts off by being On Hook (Idle).
The caller lifts the handset, this is called going Off Hook and tells the switch that you wish to make a call, the telephone 'seizes' the line.
The initial electrical circuit is set up because the by going Off Hook the circuit is made and the battery can send current. The CO switch now knows that a call is being requested and acknowledge the seizure of the line by 'Winking' the circuit.
The telephone switch either public or a Private Branch Exchange (PBX) returns a dial tone (2500Hz in the UK) which informs the caller that the switch is ready to receive dialled digits.
The number to be called is dialled.
In a private organisation if it is an external call then the PBX makes a routing decision and using network signalling setup messages, requests a 64Kbps slot in the trunk link to the Central Office (CO) e.g. E1 or T1.
The CO sets up a path based on the number, it does this by 'seizing' a circuit and sending a request to the destination PBX.
The PBX at the other end learns of the call.
The PBX at the other end sets up an AC voltage (20 - 47Hz) for the ringing of the remote telephone.
The local PBX sends a ringback tone to the caller to inform them that the phone is ringing at the other end.
The telephone handset is picked up and the loop is established local to the called party.
The ringing voltage and ringback tones are removed from the circuit.
Acoustic couplers in the phones convert the speech into modulating current that is transmitted end-to-end.
Part of the signal is fed back into the talking person's earpiece. This is called Sidetone and is a comfort signal.
The signalling between the subscriber switches and the telephony service providers can be identified as follows:
Supervisory Signalling - electrical voltages and tones that can be heard are used to signify call status as follows:

On-hook - produces an open circuit which does not allow any signalling, only the ringer can operate.
Off-hook - lifting the handset closes the circuit and allows the telephone switch to send an audible dial tone to the receiver.
Ringing - the switch sends a ringing voltage to the destination telephone as notification of an incoming call. Also an audible ringing tone is sent to the caller telephone to indicate that the call is progressing. This tone takes the form of a pattern called Cadence In Europe this Cadence takes the form of a double ring (duration of 0.4s separated by 0.2s) followed by two seconds of silence, whereas in the US it takes the form of two seconds of ring followed by four seconds of silence.

Address Signalling - there are two types of dialling:

Pulse Dialling - this is the original form of dialling a number. The telephone has a rotary dial mounted on to a spring that returns the dial to its original position when it is turn. Each number is identified by the switch by how many makes and breaks are made of the local loop. The ratio of make to break must be 40% : 60%. The number of make/break cycles corresponds to the number being dialled. Each position on the rotary dial corresponds to a different number. Typically the cam that causes the makes and breaks will give 10-20 pulses a second.
Tone Dialling - Now more commonly used is the Dual Tone Multi-Frequency (DTMF) method that uses the concept of the keypad where each key position is represented by two tones. Each row is assigned a different low frequency whilst each column is assigned a different high frequency.
When a key is pressed two tones are sent to the telephone company a low frequency tone and a high frequency tone which identify the key being pressed in much the same way X and Y co-ordinates identify a point on a graph.
Informational Signalling - The following tones are used to describe the call progress:

Dial Tone - (Continuous 350Hz + 440Hz) indicates that the the switch is ready to receive digits.
Busy Tone - (480Hz + 620Hz, 0.5s on and 0.5s off) indicates that the other end is busy.
Line Ring Back - (440Hz + 480Hz, 2s on and 4s off) means that the telephone company is in the process of completing a call on behalf of the caller.
PBX Ring Back - (440Hz + 480Hz, 1s on and 3s off) means that the switch is in the process of completing a call on behalf of the caller.
Congestion - (480Hz + 620Hz, 0.2s on and 0.3s off) means that there is congestion in the network along the path so that the call cannot be set up.
Reorder - (480Hz + 620Hz, 0.3s on and 0.2s off) means that all the circuits are busy on the local switch.
Receiver Off Hook - (1400Hz + 2060Hz + 2450Hz + 2600Hz, 0.1s on and 0.1s off) means that the other end has left the receiver off the hook.
No Such Number - (Continuous 200Hz + 400Hz) means that the dialled number does not exist.
Confirmation Tone - (Noise at a frequency of 1Hz sounds like a slow rasping noise) means that the call setup is being attempted.
Analogue Interfaces
Foreign Exchange Station (FXS)
Foreign Exchange Office (FXO)
E&M (Earth and Magneto)
The problem with single wire signalling leads is that although they have little impact in the old-world electro-mechanical systems, nowadays sensitive electronics can be adversely affected by arcing and EM interference. Signalling is far better to be carried out on balanced 2-wire circuits. As a result, new E&M interfaces were introduced. There are five types of E&M interfaces.
E&M Type I
One wire is the E-lead; one wire the M-lead; one pair is used for the transmitted voice and one pair is used for the received voice. The PBX supplies the power for both the M-lead and E-lead and they have to use a common ground thereby restricting the use of E&M Type to within the same building.
The signalling end (CO) generates the E signal by the E-lead being connected to local Ground for Off-Hook and open for On-hook. The PBX (Trunk end) can then detect a current through a resistor. The M-lead is at 8v (85mA) when Off-hook and connected to local Ground when On-Hook. The PBX generates an M-signal by connecting to Battery and the signalling end detects the resultant current through a resistor.
E&M Type II
The E-lead (signalling device to trunk circuit) is open circuit when On-Hook and goes to Signal Ground (SG) when Off-Hook and requesting a path. The M-lead (trunk circuit to the signalling device) is open circuit when On-Hook and connects to the Signal Battery (SB) when Off-Hook.
The sensor on the M lead may be biased towards -24v. The diode prevents this negative voltage appearing on the M lead if it is On-hook (open circuit).
E&M Type III
The E-lead is open circuit when On-Hook and goes to Ground when Off-Hook and requesting a path. The current is much lower on the E lead due to the high resistance E lead detectors used. The M-lead is also open circuit when On-Hook and connects to the Battery when Off-Hook. The blocking diode on the M lead does not necessarily have to be there with Type III.
E&M Type IV
The E-lead is open circuit when On-Hook and goes to Ground when Off-Hook and requesting a path. The M-lead is also open circuit when On-Hook and also connects to the Ground when Off-Hook. Both circuits operate identically.
E&M Type V
One wire is the E-lead; one wire the M-lead; one pair is used for the transmitted voice and one pair is used for the received voice. The PBX supplies the power for the E-lead, the other end supplies power for the M-lead (N.B. this is where Type V differs from Type I) and they use their local ground rather than common ground over SB and SG as in Type IV so this is unbalanced.
The E-lead is open circuit when On-Hook (Idle). The signalling end generates the E signal by the E-lead being connected to Ground (Off-Hook). The voltage can vary between -48v and -2v. The PBX can then detect a current through a resistor. The M-lead is open circuit when On-Hook. The PBX generates an M-signal by connecting to Ground and the signalling end detects the resultant current through a resistor.
Type V interfaces can be connected back to back.
Interface Timers
The following timers are often used to modify how a voice interface behaves:
Ringing Timeout - How long a telephone is rung when nobody picks up the remote end.
Initial Timeout - How long a dial tone will be sent before the first digit is dialled.
Interdigit Timeout - How long the port waits after a digit has been dialled, before the next digit is dialled.
DTMF Digit Timing - This is how long the DTMF digit signal lasts.
DTMF Interdigit Timing - This is how long the gap lasts between the DTMF digit signals.
Hookflash In Timing - The Hookflashes indicates that the caller wants to do something with the call such as transfer it. The 'Hookflash In' time is that for an incoming call such that if it is set to be quite a long time then this means that the calling phone has to be left off-hook for a long time before the call is cleared. Conversely, if the time is too short then this may be mis-interpreted as the caller hanging up. This is used where telephones have Recall keys.
Hookflash Out Timing - This is the Hookflash time that the voice port sends out.
Telephone Connections
In the UK the following diagram indicates the correct pin numbers for the LJU and the RJ45 as specified by BT and AT&T respectively:
BT LJU circuit
The normal UK analogue telephone line into a home or a direct line to an office requires a socket wired according to the above diagrams.
The 'Wiring' end is typically the outside line wiring coming in from, say, BT, and the Line Jack Unit (LJU) is where the telephone is plugged in. The first thing to note is that Surge Protection (SP) is required across the 'A' leg (Signal) and the 'B' leg (Battery) for direct lines. Secondly, a capacitor is installed in line of the 'Bell' leg which provides the capability for the handset to ring using the signal from the 'B' leg. Only the 'A' and 'B' legs need to be run in the direct-line wiring to the socket, however these two plus the ring circuit are picked up at the LJU and run into the handset.
The socket and apparatus wiring is coded as follows:
BK - Black
W - White
G - Green
B - Blue
R - Red
WG - White with Green banding
WB - White with Blue banding
WO - White with Orange banding
OW - Orange with White banding
NW - Blue with White banding
GW - Green with White banding
From the diagram it is clear that the wiring arrangement is quite different to that of most countries.
Some countries, such as Ireland and New Zealand have a similar wiring arrangement but use a different type of socket.
The voltage arrestor device is a Gas Discharge Tube (GDT) component intended to short circuit the A-Wire to the B-Wire in the event of voltages exceeding approximately 250V becoming present on the telephone line.
This type of device is relatively slow acting and has been superceded by the installation of a polyswitch type of device in the line interface of most newly designed products.
The 470kohm resistor and 1.8uF capacitor are installed in the wall socket to allow testing of the telephone line from the telephone exchange.
The wall socket also contains a connection to the telecoms apparatus intended to suppress inductive spikes which are generated when loop-disconnect dialling into electro-mechanical exchanges which terminate the phone circuit with a relay coil.
Voice adapters
Analogue voice circuits wired across SCS that use 'Time Break' as a means of control, only require 'Secondary' LJU-RJ45 voice adapters. These adapters only have LJU pins 2 and 5 wired straight through to RJ45 pins 5 and 4. In 110 patching installations this presents the voice circuit on the blue pair.
Different Voice Pinouts
Digital telephone systems are becoming more common and they sometimes require proprietary voice adapters. Sometimes LJU pins 1 and 6 are used for intelligent handsets and consoles, so in order to carry out patching on the blue pair in a 110 patching installation, a 'Digital' LJU-RJ45 adapter would need to be constructed where LJU pins 1 and 6 were wired to RJ45 pins 5 and 4.
BT's Meridian Switch uses LJU pins 3 and 4, so a 'Digital' adapter needs to be wired such that LJU pins 3 and 4 are wired to RJ45 pins 5 and 4, thus allowing 110 patching on the blue pair.
Analogue Signalling
Loop-Start
Public Telephone Service (PTS)
Manual or Automatic data service
Message Telecommunications Service (MTS)
Attendant call service on a manual PBX.
One-way incoming service to an attendant or Automatic Call Distribution (ACD) service
Ground-Start
The ground-start line conductors transmit common battery loop supervision, loop dial pulses/DTMF dial tones, alerts and the voice signal. The lines can send a 'Start to Dial' signal rather than wait for a dial tone, they can send a message indicating a new call and they can detect call disconnects and unauthorised calls.
Multi-Frequency Signalling
Signalling System Direct Current (SSDC)
'On/Off' DC current signalling used on the voice pair between switches within a city.
Signalling System Alternating Current (SSAC)
Tone signalling used on the voice pair between switches located in different cities.
AC-15
Rather than use DC, AC-15 uses Alternating Current (hence AC) for signalling and is mainly used in the UK. 'Idle' is indicated by the frequency tone 2280Hz. Turning this frequency on and off can be used for the signalling or DTMF can be used. AC-15 can run to almost anywhere, DC versions such as DC-5 and DC-10 have a limit of 10km. There are different versions of AC-15, A, B, C and D. Because AC-15 uses tones and AC voltage, if you are to communicate with a switch that uses E&M, FXS or FXO, you will require a converter box.
Wink Start Supervision Signalling
Wink Start is used for E&M trunk seizure and goes through the following steps:
The trunk ends signal On-hook to both ends when idle.
The caller goes Off-hook
The calling switch activates the M-lead.
The called memory sets up memory ready for the dialled digits but still sends an idle On-hook signal to the calling office.
When the caller is attached at the called switch, the called switch sends a Wink Off-hook Connect signal (voltage set to -48v for anything between 140-350ms) on the E-lead. The typical duration of the Wink will depend on the manufacturer's switch e.g. I/IA-ESS (150ms), 3 ESS (140ms), SESS (250ms), EWSD (180MS), DMS-10 (200MS), DMS-100F (10-250ms). Because distortion of this Off-hook Wink can happen, the other office switch needs to recognise Off-hook winks of this duration. Anything beyond 350ms can assumed to be Glare or an error condition which may redirect the call, or signal for maintenance depending on the switch type.
The calling switch receives the Wink acknowledgement on its E-lead. This Start-Dial (On-hook to Off-hook) occurs a minimum of 210ms after the reception of the connect signal for electro-mechanical switches and the I/IA-ESS switch. This allows these switches to see at least 100ms of Off-Hook Wink after the signal has traversed the network and been recognised.
The calling switch sends the DTMF digits on the voice pair
The called device answers and the called switch activates the M-lead and keeps it at -48v for the length of the call.
Immediate Start Supervision Signalling
The 'wink' in Wink Start may be too short to detect for some PBXs and these circumstances Immediate Start can be used instead. The sequence of events are as follows:
The calling switch activates the M-lead to seize the line.
The calling switch waits for at least 150ms and then sends the dialled digits on the voice pair irrespective of whether an acknowledgement 'wink' is sent or not.
The called switch activates the M-lead when the calling device answers.
The called switch then acknowledges the calling switch.
Delay Start Supervision Signalling
Delay Start is used when the switch equipment is mechanically based and therefore very slow to respond. The sequence of events is as follows:
On a call being made that requires the trunk, the calling switch activates the M-lead.
The called switch activates its M-lead as an acknowledgement.
The called switch makes the appropriate changes to its mechanical systems ready for dialling.
The called switch deactivates its M-lead as a signal to the calling switch that it is ready to receive digits.
The calling switch then sends its DTMF digits on the voice pair.
The called device answers the call.
The called switch activates its M-lead as acknowledgement that the call has been answered.
Direct Inward Dial (DID)
DID trunks only allow inbound calls, they also gain their battery from the local switch rather than the CO switch. The extension numbers that require DID are configured in the CO switch which then directs calls to these numbers on to the DID trunk rather than the normal trunk.
If the DID trunk lines are all busy then the caller will receive a busy tone even if the normal trunks are fine. The DID calls cannot be intercepted by the attendant.
Quality Of Voice And Echo On Analogue Circuits
Quality is affected by a number of factors. The level of power at which voice is sent and received is important. The following power levels are good guidelines:
Analogue voice routers should have the receive power set to around -3dB.
Europe and North America telephones transmit at a power level of -9dB.
Asia and South America telephones transmit at a power level of -14dB.
The power level needs to be strong enough so as to ensure that the signal is audible at the remote end, but not too strong so that echo results. The voice provider can adjust power levels to analogue devices. If the signal reaches the switch and there is too much input gain applied, then the signal can be clipped (i.e. the power level is above PCM codes) and distorted. The same is true if the output gain at the remote end is too low or the input gain locally is too low, in this situation even DTMF tones can be missed.
Another factor that affects quality is echo. If the delay between the original sound and the echo is greater than 30ms then this can start to become a problem for most people. The loudness of an echo is also very important.
Cable length - 1ms delay per 200km
Satellites - 250ms delay per hop
Voice encoding techniques - 0.75 to 1.6ms delay
Compression - 0.5 to 100ms delay
Acoustic Coupling (hands free phones)
Incorrect impedance of equipment
Echo Suppression can be implemented by supressing voice on the return path to prevent the feedback and resulting in half-duplex voice communication where the louder conversant wins. This causes a problem with Modem handshaking, so a tone of frequency 2025Hz is sent by the answering modem in order to turn off the voice suppression.
Digital Signalling
The summary of options for digital voice ports are as follows:
T1 - Superframe (SF) or Extended Superframe (ESF) with line encoding AMI or B8ZS.
E1 - CRC4 or no-CRC4 with line encoding AMI or HDB3.
Basic Rate ISDN (BRI) - this interface can also be used for digital PBX connectivity giving 2 voice channels and a 16kbps D-channel for the Q.931 signalling.
It is not uncommon for non-standard signalling systems to be used as manufacturers aim to gain the edge on available features. Examples include the following:
Avaya

Distributed Communications System (DCS) - not based on ISDN but T1/E1. Uses two signalling channels. Uses HDLC framed data signalling to allow transparency of features.
DCS+ - based on ISDN PRI with one signalling channel. Also uses HDLC framed data signalling.
Expansion Port Network (EPN) - a circuit emulation protocol used to connect PBXs in separate buildings creating a single logical PBX. You can use CES for this connection.
Call Management System (CMS) - uses another signalling channel called BX.25 to perform call centre reporting at a central location for multiple sites.
Non-Facility Associated Signalling (NFAS) - configuration which is non-standard where one D-channel can provide signalling for up to 300 B-channels depending on the implementation. These signalling protocols need to be Transported transparently across from router to router because the routers will not understand the protocols.

Nortel

Meridian Customer Defined Network (MCDN) - based on ISDN PRI with Q.931, however there are extensions. Used to connect Nortel PBXs and DMS CO switches and can support multiple B channels (nB+D) similar to NFAS.
ISDN Signalling Link (ISL) - a bit like MCDN but allows the D-channel to be any sort of serial connection on any channel number and allows analogue B channels.
Virtual Network Service (VNS) - this a version of ISL where the B channels become switched circuits.
DMS-100 - PRI that provides MCDN to a CO switch
DMS-250 - PRI that provides MCDN to an IXC CO switch
SL-100 - PRI that provides MCDN to a PBX.

BT

Digital Private Network Signalling System (DPNSS)
Digital Access Signalling System (DASS#2) - uses slot 16 on an E1.
If the proprietary signalling uses one CCS signalling D channel (e.g. DCS+ and DPNSS) then you can forward the frames transparently over HDLC, Frame Relay or ATM. If the proprietary signalling uses more than one CCS channel (e.g. DCS) then you need to use a TDM cross-connect method over HDLC or Frame Relay. This is where the D channels are put into a TDM group and are not restricted to channel 16, or channel 23. You can also put the D channel through ATM CES or even Serial Tunneling.
Voice Port Connections
Voice ports are used for various types of connection:
Local Calls - these calls do not use the network, PSTN or Data.
Private Line Automatic Ringdown (PLAR) - a hot line where going off hook automatically connects two phones.
On-Net - calls are routed on a data network that belongs to the organisation.
Off-Net - calls are routed on to an external PSTN network.
PBX-to-PBX - calls are routed across private tie lines between PBXs.
VoIP Gatekeeper to VoIP Gatekeeper calls - calls can be routed between VoIP gatekeepers in an IP Telephony infrastructure.
Packetised Voice Over Data
Overview
Voice networks have normally been separated from Data networks and therefore have incurred greater liabilities such as the doubling up the Wide Area Links whilst the equipment and support costs have been high to cater for the separate networks. Packetising voice provides opportunities to combine some or all of these elements resulting in greater effiency. Voice packets have mainly used ATM, Frame Relay or IP as the medium over which to travel.
A number of challenges arise when changing from a circuit-switched voice network to a packet-switched voice network. These can be summarised as:
Losing packets, which cause clipped sounds.
Packet delay, the ITU have stated in G.114 that a fixed network delay in one direction should not exceed 150ms. Network delay can also have a variable element to it due to the speed of the serial lines resulting in Serialisation Delay.
Jitter, where you can have periods of congestion as packets fill up interface queues causing the packet delay to change from packet to packet i.e. variable delay.
Reliability - data networks have not been able to boast the 99.999% reliability that voice networks can. A combination of multiple servers, distributed network devices, redundant power and network links allows the data networks to approach the 'Five nines' reliability expected of a voice network.
Technologies that packetise voice also provide opportunities to expand on the services that are provided by traditional circuit-switched voice systems. In the IP environment these new services utilise technologies such as XML, JAVA and TAPI that aid in the integration of voice and data plus multimedia and video technologies that enable a more complete communication experience. The devices are not limited to just voice phones but can include web-based phones, phone software and video phones running connected via Ethernet and TCP/IP.
Digitisation of Voice
Nyquist discovered that when human speech was being digitised it was important to sample the analogue speech signal at more than twice its highest frequency in order for the reproduced sound to be of reasonable quality. That is, when the digitised signal is decoded at the receiving end, the original sound could be reproduced accurately. Take the following simple sine wave:
If we sample precisely at twice the frequency of the wave e.g. on the circles, then there is a danger of completely missing the peaks and troughs in the sound wave and therefore resulting in a lower quality sample. If we sample at four times the frequency i.e. on the triangles, then the dotted sample is the result which more closely resembles the waveform.
Compression of Voice
Waveform Compression
Vocoder
Hybrid Compression
The 8-bit PCM signal is converted to a 16-bit linear PCM sample.
The speech is analysed and compressed with a vector quantiser.
A Vector Quantiser Codebook is used to learn and predict the voice waveform. The codebook is a collection of human voice waveforms called Diphones that make up speech. The codebook has an index typically of 1024 entries (represented by 10 bits). There is also a gain value made up of 5 bits. This controls the power.
The coder is initiated (or 'excited') by white noise, the code assigned to each sound is the index of that sound within the codebook.
The resultant code, or index, is sent to the far end for decoding back into the voice waveform using the code as an index and looking the sound up in the same codebook at the other end.
The CELP standard produces voice at 4.8kbps.
ATM cells have greater overhead because of the reduced size of 53 bytes. As well as the 5 byte header there is also the 8 byte AAL5 trailer, in addition the ATM Forum have adopted the FRF.11 header in the form of the VoX header. This takes up a further 3 bytes leaving 37 bytes for the voice data. If the default G.729 payload is used then this leaves 7 bytes wasted which is padded. A calculation using these figures gives us a required bandwidth of 8 x (30 + 20)/30 = 13.3kbps, this compares with 8 x (30 + 8)/30 = 10.1kbps when G.729 is used in Frame Relay. Using G.711 over ATM is more problematic because the default payload size of 240kbps does not fit into one cell and so has to be spread over a number of cells.
This table lists the codecs and their respective speeds and bandwidth requirements for given sample sizes.
| | | | | | | |
| --- | --- | --- | --- | --- | --- | --- |
| Codec | Codec Speed | Sample Size (bytes) | Frame Relay (bps) | Frame Relay with cRTP (bps) | Ethernet (bps) | Ethernet with cRTP (bps) |
| G.711 | 64000 | 240 | 76267 | 66133 | 78933 | 68800 |
| G.711 | 64000 | 160 | 82400 | 67200 | 86400 | 71200 |
| G.726r32 | 32000 | 120 | 44267 | 34133 | 46933 | 36800 |
| G.726r32 | 32000 | 80 | 50400 | 35200 | 54400 | 39200 |
| G.726r24 | 24000 | 80 | 37800 | 26400 | 40800 | 29400 |
| G.726r24 | 24000 | 60 | 42400 | 27200 | 46400 | 31200 |
| G.726r16 | 16000 | 80 | 25200 | 17600 | 27200 | 19600 |
| G.726r16 | 16000 | 40 | 34400 | 19200 | 38400 | 23200 |
| G.728 | 16000 | 80 | 25200 | 17600 | 27200 | 19600 |
| G.728 | 16000 | 40 | 34400 | 19200 | 38400 | 23200 |
| G.729 | 8000 | 40 | 17200 | 9600 | 19200 | 11600 |
| G.729 | 8000 | 20 | 26400 | 11200 | 30400 | 15200 |
| G.723r63 | 6300 | 48 | 12338 | 7350 | 13650 | 8663 |
| G.723r63 | 6300 | 24 | 18375 | 8400 | 21000 | 11025 |
| G.723r53 | 5300 | 40 | 11395 | 6360 | 12720 | 7685 |
| G.723r53 | 5300 | 20 | 17490 | 7420 | 20140 | 10070 |
Voice Quality
Unsatisfactory - Very annoying distortion which is objectionable
Poor - Annoying distortion but not objectionable
Fair - Perceptible distortion that is slightly annoying
Good - Slight perceptible level of distortion but not annoying
Excellent - Imperceptible level of distortion
The following table gives examples of comparative scores regarding the different types of compression:
| | |
| --- | --- |
| Method | MOS |
| PCM G.711 | 4.1 |
| ADPCM 32K G.726 | 3.85 |
| ADPCM 24K g.726 | 3.5 |
| ADPCM 16K G.726 | 3.0 |
| LDCELP G.728 | 3.61 |
| CS-ACELP G.729 | 3.92 |
| CS-ACELP G.729a | 3.9 |
| GSM | 3.3/3.4 |
| G.723.1 MPMLQ (6.3kbps) | 3.9 |
| G.723.1 ACELP (5.3kbps) | 3.8 |
A score of 4.0 is considered to be toll quality. These scores are reassessed regularly and change with time. One thing to bear in mind is that delay is not taken into account with the MOS.
The following table gives examples of comparative MOS scores for G.729 under different conditions:
| | |
| --- | --- |
| Condition | MOS |
| Average speech | 3.92 |
| Low input level | 3.54 |
| Two tandem hops | 3.46 |
| Three tandem hops | 2.68 |
| 5% bit error rate | 3.24 |
| 5% frame error rate | 3.02 |
The ITU has a number of voice quality standards, these are:
G.111 - Overall Loudness Rating (OLR)
G.113 - Quantisation Distortion Requirements for the International Calculated Planning Impairment Factor (ICPIF) which is a Total Impairment Value (Itot) that is the sum of the following:

Io - not good enough OLR or high circuit noise
Iq - PCM quantisation distortion
Idte - talker echo
Idd - long one-way transmission times
Ie - distortion from special equipmentsuch as low bit-rate decoders.

The following guidelines are recommended:

5 - Very good
10 - Good
20 - Adequate
30 - Limiting Case
45 - Exceptional limiting case
55 - Customers likely to react strongly

G.114 - end-to-end delay recommendations

1-150ms - suitable for voice
150-250ms - starts to affect voice quality
250-400ms - can be annoying (satellite delay can be as much as 500ms one-way, hence why VoIP on a satellite link is not feasible in an interactive way)
>400ms - unacceptable

G.131 - if the one-way delay exceeds 25ms then echo cancellers must be used.
Silence Suppression and Comfort Noise
Fax
Fax speeds include the following:
Single Frequency Tone
V.21 - 300bps
V.27ter - 2400bps and 4800bps
V.29 - 7200bps and 9600bps - requires 9600bps demodulated or 40kbps ADPCM.
V.33 - 12000bps and 14400bps
V.17 - 7200bps and 9600bps
Traditionally, fax machines have differed in their facilities offered and T.30 compatatibility. In addition, their tolerance of packet delays and receive errors is low because fax machines use synchronous modems which has no built in flow control. If a calling fax does not receive a response from a receiving fax within normally 3 seconds, the whole message is transmitted again. Proprietary local spoofing techniques can ease this issue of delay that can be incurred between fax machines over great distances.
Fax Relay
If the delay is large on a path, rather then lose fax relay packets it is a good idea to increase the buffer size to several hundred milliseconds because real time interaction is not important.
It is also possible to use FRF.11 to send Fax Relay over Frame Relay.
Fax Store and Forward
Fax Passthrough
If T.30 fax data is NOT compressed or demodulated i.e. just a G.711 PCM 64kbps channel that is transported without any Voice Activity Detection (VAD), then two faxes can talk to each other directly over the VoIP network.
Modem
Modem Passthrough
Modem Passthrough operates in the same way as Fax Passthrough where just a G.711 PCM 64kbps channel is transported without any Voice Activity Detection (VAD), then two modems can talk to each other directly over the VoIP network.
Modem Relay
Traffic Engineering
The PSTN can also provide the total amount of traffic carried per trunk. The number of trunks needed for the voice traffic in a particular location is based on peak daily traffic. A carrier will provide the number of calls carried but will not give the number of calls offered i.e. attempted. Only the local PBX can tell you how many calls were offered and therefore how many calls failed.
If the voice traffic is to run over a data network, you also have to take into account the statistics provided by SNMP management stations, network analysers and router interface statistics. You need to ensure that data delay and throughput is not impaired as well as the GoS for the voice traffic. If the data peak demand occurs at similar times throughout the day to the voice peak demands, then this has to be taken into account when designing the voice network.
If you do not have access to a year's worth of traffic information then you could take a month's worth (about 22 working days) determine an average day's worth and multiply that by 17%. The reason for doing this is that busy hour traffic represents about 17% of all the traffic that occurs in one day.
An Erlang is sometimes equated to 60 call minutes (3600 call seconds or 36 centum call seconds, CCS).
Erlang models are:
Erlang B - if overflow paths exist when trunks are busy, DID trunks are required to allow PSTN rerouting (there are more people than calls). This is used most of the time.
Erlang B Extended - when no alternative path exists the caller hears a busy signal.
Erlang C - used in call centres where there are more calls than people and calls are placed on hold if no bandwidth is available.
When traffic engineering your aim is to maintain or exceed the GoS. To do this you need to work out how many trunks you will need now that you know the erlangs in a busy hour. This requires a look at three areas:
Possible sources of calls - The more possible sources of calls exist, the wider the distribution in arrival times and call duration times.
Arrival characteristics - calls that come from independent sources are close to random in their arrival characteristics, the more there are; the more closely they follow the Poisson Distribution (Bell curve), where the peak probability of a certain number of calls being made in the busy hour is represented by the peak of the curve. Smooth traffic patterns are not random and are due to reliance on other applications (call centres, tele-marketing etc.). The Poisson distribution is therefore not suitable. Similarly, Bursty traffic is not random either.
Handling Lost Calls - these can be dealt with in three different ways:

Lost Calls Cleared (LCC) - if the system is busy the call is cleared, this underestimates the number of trunks required.
Lost Call Held (LCH) - even if the call fails to connect, the assumption is made that the call is active and the call is redialled continuously during the average call hold time. This over estimates the number of trunks required.
Lost Calls Delayed (LCD) - the call is placed in a queue until the system can deal with it.
When calculating trunk sizes for a VoIP network you need to find out how much data bandwidth each call will take. This will depend on the codec and sample size being used. The earlier table gives an idea of bandwidth used on a per call basis. Multiplying the appropriate bandwidth by the number of calls allows you to work out the trunk size.
An Erlang is continuous use of one trunk, designed around the busy hour. If we JUST look at this however, the most of the time the system is over specified, therefore aim to have a percentage of the calls blocked.
Use Erlang and data rate conversion tables for VoIP, VoFR and VoATM to calculate bandwidth. Other factors affecting bandwidth usage include Voice Activity Detection (VAD), Music on Hold (MOH) and the RTCP stream. It is therefore a good idea to add a little extra when sizing bandwidth requirements.
Voice Over Frame Relay (VoFR)
VoFR allows you to run voice and data over the same WAN infrastructure which has management and cost benefits, plus the frame header overhead is low. It can be used to replace a tie line with a PVC (maintaining PBX features) or to provide an Off Premises Extension (OPX) to a PBX via a router.
In order for voice to run over Frame Relay, fragmentation of the data frames needs to occur to allow steady voice traffic. This fragmentation can be a proprietary format, end-to-end FRF.12 or FRF.11 annex C. For QoS on slow links all DLCIs on an interface must be fragmented.
FRF.12 is useful when PVCs are sharing the same physical link or when VoIP is being used over the Frame Relay. The fragmentation header is omitted on frames less than the fragment size so just the largest frames (those larger than the fragmentation threshold) are fragmented. FRF.12 has no knowledge of what is in the frame whether data or VoIP, so both get fragmented.
In FRF.11 annex C, VoFR frames are all fragmented and all packets no matter the size contain the fragmentation header. FRF.11 is therefore used just for Voice over Frame Relay fragmentation over one DLCI.
If you want to centrally control billing and administration then you can set up a hub-spoke Frame Relay WAN where the central HQ is the hub and tandem switching occurs for calls between spoke sites:
When using the WAN links we need to convert to a more efficient codec, in this example we have used G.729. This gains us the benefit of bandwidth savings. There is a problem however. Take the example where a call is made from site B to site C:
The call initiates as a G.711 call via the PBX.
At the router the conversion to G.729 is made and the call is routed over to the HQ for central billing.
The router at the HQ converts the call back to G.711 so that the PBX can manage and route the call.
The PBX realises that the call is destined for site C so pushes it out to the HQ router where it is again converted to G.729 encoding.
On arrival at the site C router the call is converted back to G.711 where it is finally sent to the recipient off the PBX there.
If the routers have the ability to operate dial plans, then routing of calls based on the dialled number could be carried out at the router. Tandem switching could therefore be eliminated altogether since the Frame Relay cloud ends up acting as a large virtual voice switch.
Voice Over ATM (VoATM)
Unstructured CES takes the unmodified clear channel T1/E1 data stream across emulating the whole E1/T1 interface. A voice channel fills the whole payload of the cell. This is good for equipment that uses proprietary framing. Structured CES maintains the channelised/fractional T1/E1 DS-0 information and allows you to have multiple voice channels within the payload. TDM devices can then be removed.
When deploying MLP over ATM, ideally you want the fragments to fit into an exact number of cells to ensure the greatest use of the payload when using AAL5. When making the fragment size calculations it is worth bearing in mind that the AAL5 overhead is 8 bytes whilst the MLP over ATM overhead is 10 bytes.
If a WAN network is implementing internetworking between Frame Relay and ATM using FRF.5 then there are likely to be quite large delays emanating from the internetworking switches. This makes it unsuitable for voice traffic.
Voice Over IP (VoIP)
Overview
Real-Time Transport Protocol (RTP)
Version - currently at version 2
Padding - indicates if padding bits have been added to the end
Extension - indicates that a header extension has been included
Contributing Source Count - this is the number of Contributing Source identifiers in the Contributing Source field.
Marker
Payload Type - the codec being used
Sequence - the first one is randomly generated and this number indicates if a packet has been lost
Time Stamp - the time stamp of the first octet of data, the first one being randomly generated.
Synchronisation Source - this is a random number that is used to identify a particular data stream when multiplexing data streams.
Contributing Source - if multiple streams are multiplexed, then the source stream numbers are listed here. There could be no streams at all or up to 15, therefore you could have up to 15 x 32-bit numbers here.
The RTP header is 12 bytes in length (not including the Contributing Source stream list which could add another 60 bytes made up of 4 bytes x 15) and follows the 8-byte UDP header and the 20-byte IP header. If you are running VoIP through a VPN then you have a VPN header to consider which can be from 20 to 60 bytes, plus an additional IP header of 20 bytes.
RTP has the ability to identify the payload and timestamp the packets, plus it sequences the packets and monitors the packet delivery, re-ordering them if necessary. Normally RTP uses the even UDP ports 16384 up to 32767.
When using RTP, a technique called Compressed RTP (cRTP) can be utilised whereby the IP header (20 bytes), UDP header (8 bytes) and the RTP header (12 bytes) can be compressed from the usual 40 bytes down to normally 2 bytes, or 4 bytes if the UDP checksum is used. This is suitable for slow point-to-point links (< 2Mbps), preferably using hardware for the compression.
Signalling and Call Control
VoFR and VoATM are fine for simple point-to-point topologies but for Voice over data to be a serious contender to traditional voice systems there needs to be a scalable way of building these topologies and communicating within them and this is where VoIP comes in.
The call control system is a vital element to the VoIP environment and controls how calls are managed within the IP network. The control signalling is handled separately from the actual voice streams. Umbrella call control systems include H.323, SIP, MGCP, SCCP (Cisco's version called 'Skinny') and Megaco (H.248). The call control mechanism will not only set up the RTP/RTCP sessions but also negotiate parameters such as codec, media type, bit rate and other features about the call. There is a need to monitor the resources used by each call and to maintain a database of the call records. This provides the ability then to control who is allowed to call and what resources they are allowed to use. Call control gives you the ability to route a call based on the dialled number, this therefore requires a way of registering and resolving addresses (numbers). Using the call control system in an IP environment you can decide whether to administer the calls from a centralised point or in a distributed way.
H.323
As a Call Control Protocol H.323 has four main components:
Terminal - an intelligent endpoint which could be a phone, video device, PC software etc.
Gateway - a endpoint device that converts from the PSTN (non H.323) to the H.323 environment
Gatekeeper - address translation between zones, admission and bandwidth control
Multipoint Control Unit - allows point-to-multipoint communications with multiple H.323 terminals.
RAS Signalling Channel - H.225.0 is used in Registration, Admission and Status (RAS) messages between endpoints (gateways or terminals) and Gatekeepers dealing with registrations, bandwidth changes etc. RAS basically says 'hi, I'm here with my IP address and phone number'. RAS uses UDP port 1719 for the RAS messages and UDP port 1718 for unicast gatekeeper discovery. If there are no gatekeepers, then there are no RAS messages.
Call Signalling Channel - H.225.0 based on Q.931, H.225 allows endpoints to use call setup procedures in order to create connections with other endpoints. This uses TCP port 1720.
Call Control Channel - H.245 transmits control messages between VoIP components such as signalling, capabilities, timers, mode requests etc. The capabilities are the IP addresses, the ports to be used and the codec.
The following diagram illustrates the structure of H.323 in IP:
The H.323 terminal is designed mainly for audio communication and it can interact with other multimedia terminals:
H.310 terminals on Broadband ISDN
H.320 terminals on ISDN
H.321 terminals on Broadband ISDN
H.322 terminals on guaranteed QoS LANs
H.324 terminals on Switched Circuit Networks (SCN) and wireless networks
Address translation
Admission control
Bandwidth management and control
Management of Zones
Call Control signalling, Management and Authorisation
The Gatekeeper gives scalability to a VoIP design and can rival the traditional telephony topology.
RAS messages are listed below:
Gatekeeper Messages

GRQ - GatekeeperRequest sent by an endpoint to the gatekeeper multicast address 224.0.1.41
GCF - GatekeeperConfirm
GRJ - GatekeeperReject

Registration Messages

RRQ - RegistrationRequest sent by an endpoint to its Gatekeeper
RCF - RegistrationConfirm
RRJ - RegistrationReject

Unregistration Messages

URQ - UnregistrationRequest sent by an endpoint to unregister
UCF - UnregistrationConfirm
URJ - UnregistrationReject

Bandwidth Change Messages

BRQ - BandwidthChangeRequest sent by an endpoint
BCF - BandwidthChangeConfirm
BRJ - BandwidthChangeReject

Location Messages

LRQ - LocationRequest sent by an endpoint or Gatekeeper either to a known Gatekeeper or to the Gatekeeper multicast address. This is a request to translate an E.164 address/number.
LCF - LocationConfirm
LRJ - LocationReject

Call Admission Messages

ARQ - AdmissionRequest sent by an endpoint to a gatekeeper including the remote endpoint and the required bandwidth for the call.
ACF - AdmissionConfirm
ARJ - AdmissionReject

Disengage Messages

DRQ - DisengageRequest
DCF - DisengageConfirm
DRJ - DisengageReject

Status Messages

IRQ - InfoRequest
IRR - InfoRequestResponse
IACK - InfoRequestAck
INAK - InfoRequestNack
The following diagram illustrates the sequence of events the H.323 protocol architecture goes through when operating with multiple Gatekeepers: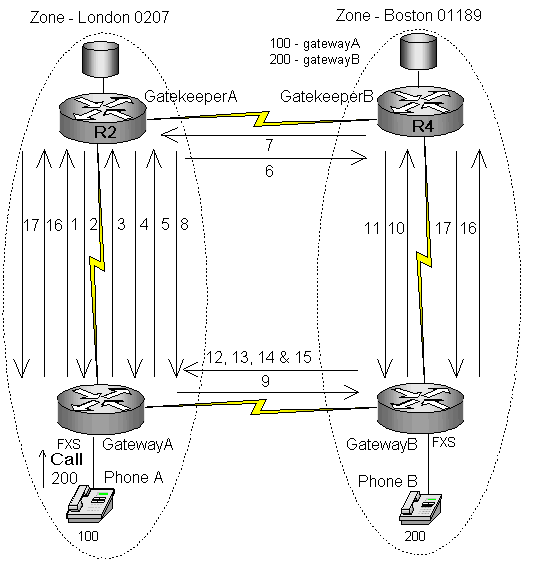 Each gateway has a dial peer configured to point to their own Gatekeeper rather than have lots of dial peers one for each phone number. This is analogous to the IP default gateway.
Take the worst case scenario where no devices know about each other, using the numbered arrows, the sequence of events when phone A wants to call Phone B operates as follows:
Registration Request (RRQ) - (H.225 (RAS) on UDP port 1719) I am GatewayA with IP address x.x.x.x and my E.164 number.
Registration Confirm (RCF) back from the Gatekeeper.
Admission Request (ARQ) - I have an extension number 100 and I want a certain amount of bandwidth to call it, can I register?
Admission Confirm (ACF) - GatekeeperA registers GatewayA, the number is now on the database. The Gatekeeper can reject the registration if it wants to.
Admission Request (ARQ) - Where is phone number 200? What is it's IP address?
Request (LRQ) - Where is phone number 200? What is it's IP address?
Confirm (LCF) - 200 is GatewayB.
Admission Confirm (ACF) - 200 is GatewayB.
H.225 setup - setup the call to 200 using H.225.0 on TCP port 1720.
Admission Request (ARQ) - from GatewayB, can I accept the incoming call?
Admission Confirm (ACF) - GatekeeperB says yes you can.
Response to call setup - from GatewayB
H.245 exchange - exchange capabilities and open the logical channel.
RTP - UDP media exchange i.e. the voice packets, between the endpoints.
RTCP - UDP RTP Control channel set up between endpoints.
DisengageRequest (DRQ) - From both Gateways to their respective Gatekeepers once the Phones have completed the call.
DisengageConfirm (DCF) - From both Gatekeepers to their respective Gateways.
If no Gatekeepers are involved then the gateways need to know of the other gateway via IP address or DNS name. These gateways set up TCP H.225.0 call signalling channel between themselves rather than use a Gatekeeper. There is no need for the endpoints to go through the RAS on UDP registration procedure.
Resilience
Because of the critical nature of the Gateway and Gatekeeper, there are methods in design that provide resilience. Using a protocol such as HSRP or VRRP, multiple gatekeepers can share the same virtual MAC and IP addresses. Only one is active, the other standby in case of failure. Flows are momentarily disrupted on a failure as the failover is not stateful.
A Gateway can be set up with multiple Gatekeepers from which it can pick one to use in case one has failed, or it can multicast out in order to find a Gatekeeper. H.323 allows an endpoint to be associated with only one Gatekeeper at a time.
Gatekeepers send each other location requests when trying to find endpoints. If more than one Gatekeeper is configured for a particular prefix, then any one of these Gatekeepers can respond. Similarly, multiple Gateways can also be configured with the same prefix.
1# - Voice Gateways
2# - H.320 Gateways (ISDN video conferencing)
3# - Voicemail Gateways
Conferencing
Conferences where more than two users communicate, can take a number of forms. H.323 provides support for Multipoint conferences via the following components:
Multipoint Controller (MC) - sets up an H.245 Control channel with each endpoint.
Multipoint Processor (MP) - processes and mixes streams so that multiple streams can be sent to one or more endpoints.
Multiple Control Unit (MCU) - a unit that contains the MC and may also have an MP.
Implications On Security
H.323 can use many ports, so a firewall has to understand H.323 and look for call set ups before it allows through the UDP ports that RTP/RTCP use. In order to do this the firewall has to keep track of the flows and has to rid the allowable ports from its table when the respective flows have finished.
Session Initiation Protocol (SIP)
As well as UACs and UASs, there are also SIP servers:
Proxy Server - forwards SIP requests on behalf of clients or other Proxy Servers. Proxy Servers can perform call routing, access control and security.
Redirect Server - tells the UA which server it should communicate with.
Registrar Server - processes requests from clients that register their location.
Location Server - provides address resolution to Proxy or Redirect Servers, either using its own tools or by accessing other tools such as Finger, rwhois or LDAP.
Request - containing Request Line, Header Line and Message Body.
Response - containing Status Line, Header Line and Message Body.
The Request line contains a Method that determines what the receipient (e.g. a server) should do. There are six methods:
INVITE - client invites a server to join in a session, includes session parameters.
ACK - response received by client.
BYE - client or server initiates the termination of the call.
CANCEL - client or server cancels any request.
OPTIONS - client obtains the server capabilities.
REGISTER - provides information to a server periodically refreshed.
Response messages use codes similar to HTTP and are grouped as follows:
1XX - Information
2XX - Successful
3XX - Redirection
4XX - Client error
5XX - Server error
6XX - Global Failure
Endpoints (UAs) register addresses with the Registrar server. An address can be resolved by a variety of means as described earlier.
Call Setup Using Direct Communication
If the UAC knows the UAS address then they communicate directly as follows:
Call Setup Via A SIP Proxy Server
Call Setup Via A SIP Redirect Server
For resilience, multiple Proxy and/or Redirect servers can be configured on the UAs. Additionally, each server can be configured with the same DNS name.
Media Gateway Control Protocol (MGCP)
Overview
Endpoints
The Call Agent needs to understand the various types of Endpoints that exist along with their capabilities. These are as follows:
DS0 - single channel
Analogue Line - e.g. FXS, FXO
Announcement Server access point
Interactive Voice Response (IVR) access point.
Conference Bridge access point
Packet Relay - an access point that bridges between incompatible gateways
Wiretap access point - for recording and playing back communications.
ATM trunk-side interface - an audio channel in an ATM network.
Gateways
Here are the seven types of Gateway:
Trunk Gateway SS7 User Part (ISUP) - ISDN signalling endpoints
Trunk Gateway Multifrequency (MF) - digital or analogue MF signalling endpoints
Network Access Server (NAS) - connects to endpoints that use modems for data
Combined NAS and VoIP Gateway - connects to endpoints that use modems for data and VoIP
Access Gateway - supports digital and analogue endpoints attached to a PBX.
Residential Gateway - connects to endpoints that have traditional analogue interfaces
Announcement server - connects to endpoints that access announcement servers
Call Setup and Connections
The Call Agent requests the Gateways to Notify it of themselves and their endpoints. The Gateways duly comply. The RQNT often contains relevant Event/Signal packages plus a Dial Map so that the gateway(s) can collect digits before notifying (NTFY) the Call Agent. In addition, the Call Agent might include events for the gateway to monitor.
The Call Agent tells the gateway to create the connection (CRCX) plus which RTP ports to use. The gateways respond, in this case Gateway B informs the Call Agent which session parameters to use e.g. RTP and RTCP ports. Gateway B's CRCX response is an encapsulated RQNT in SDP.
The Call Agent now tells Gateway A to modify its session parameters to match those of Gateway B. The MDCX is encapsulated RQNT in SDP.
The RTP media stream starts.
At the end of the call, Endpoint A hangs up and Gateway A notifies the Call Agent. The Call Agent then instructs gateway A to delete the call (DLCX). Once this has been acknowledged, the Call Agent instructs Gateway B to delete the call aswell.
For multipoint calls, the Call Agent instructs and expects an endpoint to be able to do this.
Events
Continuity Detected
Continuity Tone
DTMF digits
Fax Tones
Flash Hook
Modem Tones
Going Off-hook (code = hd)
Going On-hook
Signals
Answer Tone
Busy Tone
Call Waiting Tone
Confirm Tone
Continuity Test
Continuity Tone
Dial Tone (code = dl)
Distinctive Ringing
DTMF Tones
Intercept Tone
Network Congestion Tone
Off-hook Warning Tone
Pre-emption Tone
Ring Back Tone
Ringing
Control Commands
EDCF (EndpointConfiguration) - the Call Agent sends this to find out the coding characteristics of an endpoint interface.
RQNT (NotificationRequest) - the Call Agent tells the gateway to look out for an endpoint event and to take an action.
NTFY (Notify) - the gateway notifies the Call Agent that an event has occurred.
CRCX (CreateConnection) - the Call Agent tells the gateway to set up a connection with an endpoint.
MDCX (ModifyConnection) - the Call Agent tells the gateway to update the session parameters for a connection.
DLCX (DeleteConnection) - the Call Agent could send this or the gateway might if it lacks resources.
AUEP (AuditEndpoint) - the Call Agent sends this to obtain the status of an endpoint.
AUCX (AuditConnection) - the Call Agent sends this to obtain the status of a connection.
RSIP (RestartInProgress) - the gateway sends this to tell the Call Agent that the endpoints are no longer available.
Packages
G - Generic Media
D - DTMF
M - MF
T - Trunk
L - Line
H - Handset
R - RTP
N - Network Access Server (NAS)
A - Announcement Server
S - Script
Gateways often handle different types of endpoints, so different types of gateway are assigned different packages:
Trunk Gateway SS7 User Part (ISUP) - G, D, T, R
Trunk Gateway Multifrequency (MF) - G, M, D, T, R
Network Access Server (NAS) - G, M, T, N
Combined NAS and VoIP Gateway - G, M, D, T, N, R
Access Gateway (VoIP) - G, D, M, R
Access Gateway (VoIP & NAS) - G, D, M, N, R
Residential Gateway - G, D, L, R
Announcement server - A, R
VoIP Implementations
Computer Telephony Integration (CTI) - interaction with customer database information based on the dialling number, softphones, IVR, call centre management systems etc.
Unified Messaging - linking with Microsoft Exchange allows interaction with E-mail, VoIP calls, FAX and messaging applications such as MSN. Individuals can use any of these media to make contact.
IP Centrex - central control of IP telephony functions rather than have an organisation manage its own system
Hospitality - provision of long distance LAN and voice access from a hotel environment
Multi-tenant
Pre and Post paid Calling Card
Hoot and Holler - always on multi-user conferences
Collaborative Computing - using distribute servers applications such as whiteboard software, video streaming, FTP, IP phones etc. can be used to provide a work environment for a group.
Call Centres
Toll Bypass - bypass the TDM networks provided by the PSTN
Voice XML - Voice Extensible Markup Language allows you to use voice to control web applications.
VoIP Implementations
In general, Voice mail operates as follows:
Caller A calls B
After 3 rings the call is diverted to the voice mail which is attached to the PBX.
The PBX instructs the voice mail system to play the recorded greeting and Caller A leaves a message.
The PBX sets the voltage on B's line so that a Message Waiting Indicator (MWI) lights up.
The information passed between the Voice Mail system and the PBX include the calling number, the called number, message waiting information and the reason for the call not being answered. As far as the PBX connection to the Voice Mail system is concerned there are a variety of ways in which signalling is passed:
Bellcore's standard Simplified Messaging Desk Interface (SMDI) which uses an out of band serial link.
Proprietary In-band signalling using DTMF tones.
Voice mail line cards that emulate the PBX.
The Dial Plan
A Dial Plan is a set of rules that governs what becomes of incoming and outgoing calls. Getting the dial plan correct at the beginning can save not only alot of money but it can also ease the administration of the voice system, provide good security and improve reliability.
Whether the voice network is a traditional PSTN-based one, a VoIP network or a mixture, the dial plan structure is essential for efficient call routing and management. As well as each country having its own national dial plan, individual organisations also need to device their own internal dial plan that makes sense and uses the most efficient paths for calls.
Cost savings are made by keeping calls on-net as much as possible so that you bypass the tolls imposed by the PSTN. These same routing configurations can be used to provide resilience so that should there be a problem with the network, the call can be routed off-net. The dial plan can determine who is allowed to use expensive CPU and DSP resources and thereby prevent overloading of resources. The dial plan is analogous to static IP routing other than we are using E.164 numbers instead of IP addresses.
PBXs implement dial plans using tables which would typically be the following:
Lead Digit Table - for the first digit e.g. '0' or '9'
Route List - how calls are routed based on time of day, permissions and available capacity
Special Number Table
Local Number Table
Time Table - gives the ability to route groups of numbers depending on the time of day.
Class of Service Table - this contains access groups that determine the type of access users have e.g.

COS 1 - Lobby phone with emergency access only and maybe one internal number
COS 2 - Admin phone with internal and emergency access only
COS 3 - Sales phone with local, long distance and emergency access
COS 4 - Managers phone with local, long distance, emergency and some premium lines access
COS 5 - Executive phone with no restrictions

Auto Attendant Table
The dial plan can be configured to limit calls to mobile phones, or limit inbound calls. The Class of Service groups can be used to limit access to features.
Basic Enterprise Dial Plan
The dial plan will include the following:
Internal extensions are mapped to DID numbers so that external callers can go straight to the individual within the organisation.
Outgoing calls will have the switchboard number rather than the internal extension number.
Inter-office calls use 4 digits to give plenty of numbers.
A number starting with 9 will be broken out on to the PSTN straightaway.
Emergency numbers such as 999 or 911 are directed straight out on to the PSTN.
Special extensions are created for other sites so that calls can remain On-net.
North American Dial Plan
The aim with a dial plan is to make it scalable in order to make call routing more simple. This is often carried out in a hierarchical manner done by summarising number addresses. The ITU developed the E.164 numbering system to provide some form of international agreement on numbering plans. The North American numbering plan is based on 10 digits where 3 numbers are used for the area codes and 7 numbers for the phone number. On seeing an area code such as '123' the CO switch can ignore the following 7 digits and forward the call on to the relevant area switch straightaway reducing the post dial delay.
The North American Dial Plan adheres to the E.164 international plan and takes the following form:
Transit Network (Long Distance Carrier) - 3-4 digits
Country Code - 1-3 digits
Area Code - 3 digits
Exchange - 3 digits
Extension - 4 digits
Automatic Number Identification (ANI) so calling number can be identified.
Automatic Location Identification (ALI) so caller can be found within 1000ft, due to the information included with the number includes the address, office and nearest emergency department.
CLI information is always passed through the network. If it is blocked, then it is the remote PBX that does the blocking.